Crazy Rich Asians
is a film being released later this year or 2018 based on a 2013 novel by Singaporean-American Kevin Kwan. There has been a significant amount of buzz about this film being a kind of "watershed" moment in Asian-American culture, since it is an almost entirely Asian production. It is a film based on a novel by an Asian writer being directed by an Asian director with a predominantly Asian or half-Asian cast. Before people get too excited, however, according to IMDb the screenwriter, the producers, the composer, the cinematographer, the editor, the casting director and the production designer are all non-Asians. Many people do not realize how insignificant the director is in a studio production.
Kwan is the fourth generation of one of Singapore's oldest bank's founding members. His father was an engineer and mother a pianist. They moved to the US when Kwan was 11. He is related to Nancy Kwan, the British-Cantonese actress who has worked in Hollywood since the 60's. He attended the University of Houston and then Parson's School of Design in Manhattan for photography and worked as an art and fashion photographer until writing
Crazy Rich Asians
.
Kevin Kwan
The director on the film is Jon M. Chu, who was actually discovered by Steven Spielberg of all people based on some student work Chu did at the University of Southern California film school. He appears to specialize in films involving different forms of dance or martial arts. He has most notably directed the
Step Up
series, the
G.I. Joe
films, and two concert films for Justin Bieber. The student film that got him recognized is called
When the Kids Are Away
, which is an ensemble dance piece that imagines what housewives do at home once their kids are off to school. It features predominantly African-American and white women (although I thought I saw at least one Asian in the trailer on Youtube). It is interesting to note that the director of the first mainstream Asian-American Hollywood film is himself directing an Asian film for the first time.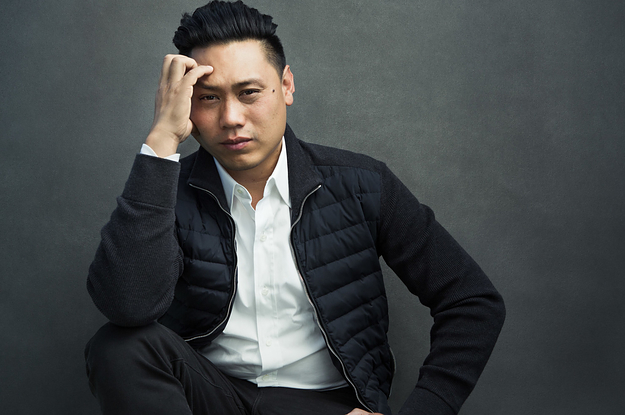 Jon M. Chu
The "stacked" cast of
Crazy Rich Asians
:
http://www.vulture.com/2017/06/crazy-ri ... -cast.html
I took a peek at the novel using Amazon.com's "Look Inside" feature and I am going to voice my criticism of the book here and hope that something about the film proves me wrong. I read the prologue (minus page 9), which consists of a single self-contained and absurdly jarring scene.
Marked "London, 1986," the scene is a flashback to when one of the main characters of the novel, Nicholas Young, is eight years old. The young Young arrives at an apparently fictionalized English luxury hotel called the "Calthorpe" with his mother, two aunts and two cousins. These "crazy rich" Asians end up walking from the subway to the hotel in the rain because one of them is too thrifty to call a cab, which is an important plot point because it appears that the excessive hydration is the straw that breaks the camel's back of them being Chinese for the hotel staff. The general manager, named Reginald Ormsby, rushes down to the front counter to intercept these indecorously moist Orientals. When Nick's mother Eleanor attempts to claim their reservation, Ormsby's narrativized thought process includes remembering the booking but not knowing that "Young" could be a Chinese name, that "this kind" must be prevented from accessing the hotel simply because they are "this kind," that in particular a person named the Dowager Marchioness of Uckfield (which appears to be a really pretentious sounding character from another novel titled
Snobs
) would be affronted, and that the best way the general manager of this elite establishment can think of to handle this grievous situation is to deny the reservation exists. As if in response to the cruel injustice of this discrimination, the Chinese women instantly revert to annotated Malaysian slang to express their disapproval. Ormsby unintentionally lets slip that he "knows" the women have booked the largest suite at the hotel—the "Lancaster Suite"—and this causes Eleanor's sister-in-law Felicity to reach over the desk and nose into the hotel's reservation book herself, where, after flipping a few pages, she locates the group's entry. Confronted with this evidence, Ormsby makes the clutch decision to continue denying that there is any space in the hotel for the family. Felicity's "Thatcheresque perm" is particularly unforgivable. When Eleanor asks—perhaps rhetorically—where the family is supposed to go, Ormsby's response is devastating: "Perhaps someplace in Chinatown."
The women step away from the counter. Felicity calls Ormbsy "odious" and opines, "I think it has something to do with us being Chinese." What is apparently a Hokkien racial slur for white people is dropped (with annotation). Nick's older cousin Eddie waltzes over to his mother and aunts with a beverage that he has already charged to their suite and is impatient because he wants to order from room service. Felicity bemoans "pampered" Hong Kong boys, but fortunately the private English boarding school in which they are there to enroll Eddie will take care of that problem. When he is informed that they are no longer staying at the hotel, he returns to where the other children are to continue to play-act an incredibly childish and not very realistic version of what a "pampered" Hong Kong boy thinks a chairman of a company does. During the course of page 9, the group apparently makes its way out of the hotel to the nearest phone booth (this is of course 1986), where Felicity places a call to her husband, Harry Leong, in Singapore. A slightly exasperated Harry threatens to call the minister of trade and investment (of Britain?), then suggests Felicity try to contact her cousin who lives in Surrey. Unfortunately, the cousin is "grouse hunting in Scotland all weekend." Finally, Harry thinks he will make slightly less of an international incident out of this and decides to call his contact at the Singapore Embassy, and asks for the name of the hotel. When Felicity tells him, a light goes off in his head. He asks where it is located, to make sure, and realizes he just played golf with the owner of the hotel "and a few other Brits" last month in California. An hour later the group barges into the hotel again with what is apparently its sole owner, Lord Rupert Calthorpe-Cavandish-Gore, who mispronounces Ormsby's name, orders him to prepare rooms for the Chinese women, and reveals that he has just sold the hotel to Felicity's husband (so he can spend more time "bonefishing in Eleuthera"). Before joining Lord Rupert at the "long bar," Felicity turns to Ormsby with the cold nonchalance of a revenge a lifetime in preparation and tells him to "leave the premises."
The first problem with the tone of this introductory scene is how unrealistic it is. Any hotel that wanted to exclude guests based on race or religion or social status would have ways of vetting guests before they book the room. All they would have to do is ask people to fill out an application to become a member before allowing a reservation. They could ask applicants to provide references and require a vote by committee for admission, the way many private clubs do all over the world. If the hotel is not a private club, then it is a matter of curiosity why they would not accept a paying customer. In fact, the easiest way to vet clientele is to set your price for service. While standards were different in the 80s, this kind of explicit retail discrimination is actually very uncommon in the West. The Opium Wars were about opening the riches of Asia to the West through trade, not shutting that trade down. Discrimination of this kind against Asian families who are as wealthy as the fictional ones in the novel is generally nonexistant. It is almost as if the author is lifting a racist scene from African-American experience and painting in Asians for dramatic effect (which is not to say that racism against Asians does not exist in the West, just that it works differently).
But in a deeper way, this novel appears to be a veritable map of Asian insecurity. It is a fantasy of the powerless, a projection of unfulfilled desires, hidden behind the mask of satire. The novel pretends to be a "send-up" of wealthy Asians, as if the author and its Asian audience could never be as shallow and empty as the characters in the novel, but only ends up announcing that the only thing this audience cares about or is interested in is to one day be as shallow and empty as the characters in the novel. On the face of it, it is enough that all of the markers of status in the scene—from the ridiculous Anglophone names to the hotel itself—are European or American. But the superficiality does not have to do with the Western cultural markers themselves but the Asian characters' relationship to them. One way to understand culture is as a limitation on social differentiation. It is a society's culture that ensures that the narcissism and naked self-interest of its individuals operate within given boundaries and ultimately serve the interest of the society as a whole, i.e. that no matter what station one happens to find oneself in, high or low, one serves a common goal, despite the need for stratification and hierarchy. In this opening scene, the Asian characters wear their Western mannerisms like a badge of entitlement. Like so many Asians in the West, they want the status that Western accoutrement brings, but none of the responsibility, none of the limitation. They do not realize that the very reason they fetishize this culture—the reason British and American culture became strong to begin with—is because British and American society found a way to negotiate the differences between its Ormsbys and its Lord Ruperts for a greater goal, and that its culture is the codification of that (constantly updated) social contract. This opening scene is the fantasy of an individual narcissism toppling the restrictions of that working hierarchy. It is a racist tableau on the surface, but a juvenile daydream of wresting a denied status and power from the very culture that produced that status and power below the surface.
Of course, the real hierarchy that these Asians are running away from is their own. The writing of this post happened to coincide with the broadcast of the Ken Burns documentary on the Vietnam War, and I could not help thinking of the characters in
Crazy Rich Asians
during the part of the documentary that focused on Madame Nhu just before the coup d'etat and assassination of President Diem, where Nhu famously referred to Buddhist self-immolation protests as a "barbecue." Regardless of how one views the War, Nhu's attitude did nothing to help her own cause of stabilizing South Vietnam under her family's control, unifying the people of Vietnam, or defeating the Viet Cong. It was an individual narcissism set against the development of a much needed working hierarchy in her country. What these types of Asians don't understand is that wealth and power can only exist socially, not individually. A society must recognize some form of order for wealth to be accumulated and an individual can only have so much power as society deems legitimate. The type of "crazy rich" that this novel romanticizes really only exist in the minds of people who wish they were crazy rich because they think it would allow them to flaunt the social convention that they feel restricts them. But real "crazy rich" carry more responsibility, not less—are more socially restricted, more invested in the order in which their success was made, and generally less inclined in indulging in wasteful conflict.
The elephant in the room here is that this entire website is devoted to a European art form that many Asians are attracted to for the exact same reason as the characters in CRA are to Western culture as a whole: for them classical music is a status symbol. Without really intending it or consciously conceiving it as such, it could be said that my entire purpose for starting this site was to nudge this audience away from the kind of superficiality found in CRA and towards a deeper understanding of this culture in which they have taken an interest, one that I believe must inevitably lead to a deeper understanding of one's own culture and history. Any serious examination of an art form must in the final analysis be a self-examination, and I hope that any Asian person listening to Chopin or Beethoven today hears not a stagnant relic of a status culture that must be acquired for personal aggrandizement but a dynamic, living expression of human potential that resides—however dormant—within themselves, not external to themselves.