looks like China has a rising star in the world of music directors/conductors in Long Yu: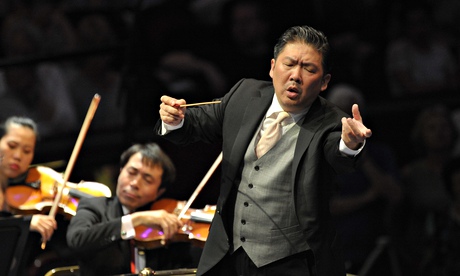 http://www.theguardian.com/music/2014/j ... -yu-review
Prom 2: China Philharmonic Orchestra/Yu review – a bit too cool
Royal Albert Hall, London
Two contrasting concertos finally got the fastidious China Philharmonic playing with some passion

Tim Ashley
The Guardian, Sunday 20 July 2014 07.20 EDT

Long Yu conducts the China Philharmonic
No stranger to the UK … Long Yu conducts the China Philharmonic. Photograph: Chris Christodoulou/BBC
The China Philharmonic, with its artistic director Long Yu, is the first of a series of orchestras, mostly from the far or Middle East and Australia, to make their debuts at this year's Proms, though neither they nor Yu are by any means strangers to the UK. Founded in 2000, the CPO was heard at the Barbican five years later; Yu, meanwhile, returned to conduct the BBC Symphony last year. A fine orchestra, with superb woodwind, they play with fastidious precision and considerable elegance. Yu, however, seemingly favours interpretative detachment. Though there are strengths and weaknesses in his approach, the emotional pitch of the evening was, if anything, too cool.

The love scene from Tchaikovsky's Romeo and Juliet admirably avoided syrupy sentimentality, though the Capulet-Montague brawls were short on both violence and excitement. Mussorgsky's Pictures at an Exhibition, in Ravel's orchestration, contained some ravishing things, such as the poised, dreamy Vecchio Castello, though the work's darker moments, Gnomus and The Hut on Fowl's Legs, failed to disturb. Yu's choice of a curtain-raiser, meanwhile, was Elgar's Pomp and Circumstance March No 4, done with a metronomic rigidity more military than ceremonial.

The two very different concertos at the programme's centre were more satisfactory. Haochen Zhang was the soloist in Liszt's First Piano Concerto, flamboyantly moody throughout and injecting some much-needed passion into proceedings. After the interval came the UK premiere of Joie Eternelle, a set of variations on a traditional Chinese melody for trumpet and orchestra, written for Alison Balsom by Qigang Chen, Shanghai-born, Paris-based and a pupil of Messiaen. Beautifully crafted, the score has a haunting, timeless beauty and proved a fine vehicle for Balsom, though its subtle gradations in difficulty more than once took her to the limits of technique and virtuosity.
Here's his bio from the Columbia Music website:
http://www.camimusic.com/details.asp?webid=2025
Long Yu

The preeminent Chinese conductor with an established international reputation, Long Yu is the Artistic Director and Chief Conductor of the China Philharmonic Orchestra, which he co-founded in 2000, and the Music Director of the Shanghai and Guangzhou Symphony Orchestras. All three ensembles are among China's finest and tour actively at home and abroad in addition to regular seasons featuring the world's top soloists. Maestro is also the Founding Artistic Director of the Beijing Music Festival which, now in its 15th season, is the internationally recognized hub of musical life in China's capital. Long Yu shares the position of Artistic Co-Director of the MISA Festival with Charles Dutoit, bringing classical music to the young people of Shanghai.

Maestro Long Yu regularly appears with the world's leading orchestras and opera companies including Munich Philharmonic, Orchestre de Paris, BBC Symphony, Hamburg State Opera, Maggio Musicale Fiorentino, Teatro La Fenice, Chicago Symphony Orchestra, Philadelphia Orchestra, New York Philharmonic, Los Angeles Philharmonic, Sydney Symphony, Hong Kong Philharmonic, Tokyo Philharmonic and Singapore Symphony. Maestro has been invited to return to the New York Philharmonic three times in the next two seasons with programs featuring Yo-Yo Ma, Yuja Wang, and other soloists. Long Yu's latest New York performance featuring a mix of core classical repertoire and works by contemporary Chinese composers was televised by PBS and BTV (Beijing) reaching a combined audience of millions of people.

Leading the development of orchestral landscape in China, Long Yu has created the nation's first orchestral academy as a partnership between Shanghai Symphony Orchestra, Shanghai Conservatory and the New York Philharmonic. His dynamic vision is focused on introducing China's growing audiences to key Western repertoire including Wagner's Ring Cycle, Mahler Cycle, as well as works of Richard Strauss, Benjamin Britten, and many others. A champion of new music, Maestro has commissioned works from today's most prestigious composers such as Krzysztof Penderecki, Philip Glass, John Corigliano, Guo Wenjing and Ye Xiaogang.

For the first time in history, a Chinese orchestra performed at the Vatican under Maestro Long Yu's baton. The Holy Father Pope Benedict XIV attended China Philharmonic's performance in the Paul VI Auditorium and praised it as a big step in promoting co-operation between East and West. A passionate supporter of cultural dialogue, Long Yu brought together the top Asian musicians such as Myung-whun Chung, Midori, Lang Lang, Yo-Yo Ma, and Ray Chen for the 2010 Canton Asian Music Festival in connection with the XVI Asian Games in Guangzhou. The festival also featured a rare appearance of the National Symphony Orchestra of Taiwan in mainland China. Earlier that year Long Yu led the Shanghai Symphony Orchestra in a historic joint performance with the New York Philharmonic on the Great Lawn of Central Park, attended by nearly 100,000 people and broadcast to an even wider audience in China, in celebration of the World Expo.

Deutsche Grammophon has released Maestro Long Yu's recordings of Wagner Tannhäuser Overture, Brahms Piano Quartet in G Minor in Arnold Schoenberg's orchestration, and a wide range of Chinese orchestral music including Yellow River Concerto with Lang Lang. His recordings on Naxos include Korngold and Goldmark Violin Concertos with Vera Tsu as well as Ding Shande's Long March Symphony.

Long Yu was born in 1964 into a family of musicians in Shanghai. His grandfather Ding Shande, a composer of great renown, inspired his passion for music and encouraged him to study at the Shanghai Conservatory and the Hochschule der Kunst in Berlin. Upon his return to China, Maestro was appointed Principal Conductor of the Central Opera Theatre in Beijing. Long Yu is a Chevalier dans L'Ordre des Arts et des Lettres and the recipient of the 2002 Arts Patronage Award of the Montblanc Cultural Foundation. In 2005 the Republic of Italy honored Maestro Long Yu with the title of L'onorificenza di commendatore.