From roughly 2003-2009, a British record producer named William Barrington-Coupe released over 100 classical piano recordings he claimed were made by his wife, a moderately successful concert pianist from the 50s to the mid-70s named Joyce Hatto. The recordings were lavishly praised by the classical music establishment, but in 2007 were exposed as fraudulent. As of this writing, 43 of the recordings have been digitally matched to existing recordings by other pianists. Roughly 15% of these known plagiarisms contain material recorded by Asian pianists, either single tracks or entire composition cycles.
Wiki is
here
.
Short (23 minutes) documentary
here
.
William Barrington-Coupe
Joyce Hatto
Barrington-Coupe seemed to select obscure but exceptional recordings to plagiarize. (Although it should be stated for the record that several well-known pianists such as Vladimir Ashkenazy, Marc-Andre Hamelin, John Browning and Sergei Babayan also fell victim to his scheme.) While one could spend much time debating the morality of such large-scale artistic appropriation, it has not been lost that the net result of the scandal was the promotion of many obscure pianists who otherwise had gone unnoticed, and that, in a strange way, having a recording of yours deemed good enough to steal is something of a compliment.
There are a few interesting tidbits in this story. First, the Joyce Hatto releases did not rise to prominence in some obscure corner of the classical music world; they were actively and vigorously defended by some of the most established classical music critics in the world. After
Gramaphone Magazine
published a long article about Hatto in 2006, some of their readers wondered how it would be possible for a pianist who had not performed for decades to suddenly produce volume after volume of high-quality material. A critic for
Gramaphone
asked doubters to present evidence for their accusations that would "stand up in a court of law." The
Boston Globe
called her "the greatest living pianist that almost no one has ever heard of." A radio station in New Zealand put together an hour-long program about Hatto that included a telephone interview they did with her. Tom Deacon, a producer for Phillips who worked on the
Great Pianists of the 20th Century
series is on record praising and criticizing the same recording, the Chopin Etudes played by Yuki Matsuzawa:
http://ecclesiastes911.net/music_critic ... me_record/
Many of the Hatto Chopin Etudes (including Op.10 Nos. 1, 3, 4 (C♯ minor), 5 (Black Key), and 10) are rip-offs of Yuki Matsuzawa's performances [1]. Tom Deacon, the producer of Philips Great Pianists of the 20th Century series, produced the following evaluations:

Matsuzawa: Faceless, typewriter, neat as a pin but utterly flaccid performances with small, tiny poetic gestures added like so much rouge on the face of a Russian doll. … Nothing could possibly equal the faceless, spineless, ever-so-tasteful performances of Ms. Matsuzawa. She is the very model of Lily Tomlin's much admired tasteful lady. [4]

Hatto: My oh my, this is a beautiful recording of Chopin's music. The pieces flow so naturally and so completely without precious effects that you might, for a moment, think that there are no other ways of reading the music. … In Op. 10 No. 1 the right hand is fluent, flawless, clear as a bell, but the real story is the LH, which carries the interest of the piece anyway. The central episode in No. 3 is dramatic, but the drama doesn't overwhelm the A section, either the first or second time round. The C♯ minor, a knucklebuster if ever there was one, is played as a true Presto, but punctuated with all kinds of wondrous LH details. The first black key etude has fluttering RH detail, but again, it is the LH which is truly eloquent. …The A flat major, Op. 10 No. 10, restores all of Chopin's carefully notated differenciation between one section and another, a veritable study in the ability to vary detached sounds.[5]
The scandal also inspired two novels and a film. One of the novels was written by a French-Vietnamese woman named Minh Tran Huy, called "The Double Life of Anna Song." It appears to be a romanticization of Barrington-Coupe and Hatto's relationship, and does not concern itself with the fact that dozens of real pianists, many of whom are Asian, had their work stolen from them.
So, without further ado, here are all the confirmed recordings made by Asian pianists that Barrington-Coupe felt were good enough to rip off. Links to purchase the recordings are provided below. Over time, I will review the most significant of them in this thread:
1) Paul Kim, Messiaen's
Vingt regards sur l'enfant-Jésus
Available
here
.
This is the obvious #1. The thought that some unheard of pianist could just casually learn this work--what many consider the "holy grail" of classical piano--is ridiculous. Kim is, I believe, a Korean-American pianist from California. He studied at Julliard, the Manhattan School of Music, and did his PhD at NYU. He is a Messiaen specialist, and this recording is volume 2 of a seven-CD set of Messiaen's complete piano music. Yvonne Loriod, Messiaen's widow, has praised his interpretations. He is currently working on an original piano transcription of the complete Beethoven symphonies.
2) Yuki Matsuzawa, Chopin's
Etudes
(except Op.10 Nos.2 & 6, Op.25 Nos.1 and 7–12)
Amazon's placeholder
here
.
This is the recording mentioned above. Japanese pianist who studied with Ashkenazy.
3) Izumi Tateno, Debussy's
Preludes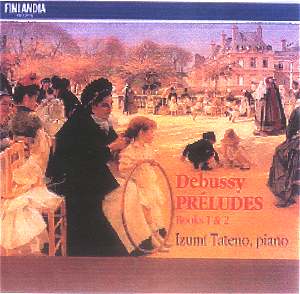 Unfortunately unable to find a place to buy this disc. Tateno's fan base is in Japan and Finland, so perhaps no distribution in the States. Apparently this entire recording was pirated. Tateno, of course, is on the banner of this website and has his own thread here:
http://asianclassical.com/viewtopic.php?f=3&t=32
4) Chen Pi-hsien, Bach's
Goldberg Variations
A 2010 version by Chen available
here
. Not sure if this is a reissue of the same recording or a new version.
The theme and first five variations have been digitally matched. Chen's parents fled to Taiwan from mainland China after Mao defeated the KMT in 1949. She was sent to study piano in Germany at the age of nine, and lives and teaches there now.
5) Minoru Nojima, Liszt's
Transcendental Etude
No. 5
6) Noriko Ogawa, Debussy's
La plus que Lente
7) Chitose Okashiro, Scarlatti Sonatas